Service Request Form
---
Action Appliance Service

is an appliance repair business serving the Kitchener, Waterloo and Cambridge areas. We aim to provide all our customers with reliable, honest, and high quality service.
We offer prompt professional service on washers, dryers, dishwasher, refrigerators, freezers, stoves and more.
Action Appliance Service operates within the Kitchener, Waterloo and Cambridge areas, including Ayr, North Dumfries, New Dundee, Petersburg, Baden, St. Jacobs, St. Clements, Wellesley, St. Agatha, Breslau, Mannheim, Roseville, Blair, Maryhill, Conestogo, Elmira, Heidelberg.
---
Honest prices, and hard working, I wouldnt have gone with anyone else.
Advice and research done by Action Appliance before the actual service call went above and beyond customary service practices.
Glen was great to deal with. He was very professional, nice and helpful with advice.
I cannot think of a repair man I would be more confident in recommending
In my mind, there is no one else that you should go with for appliance repair.
Glen goes out of his way to help you, often when you are in a real pinch, and you are always treated fairly.
I have referred Glen to many people over the past 20 plus years, many of which are close friends or family, and I have had nothing but positive response and thanks for the referral.
[Action Appliance Service] conduct business in a professional manner at all times, and maintain their account balance within our specified terms.
We have been very pleased with Action Appliance and will continue to use this company in the future.
He's always prompt and courteous, and does a great job. I would highly recommend Glen Campbell for any appliance repair and servicing.
Glen is that rare service man - honest, on time, polite, organized and helpful.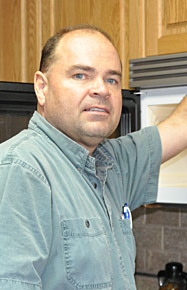 Glen Campbell
Owner and Operator
Glen graduated from the appliance service program in the spring of 1983 through Conestoga college. He worked for a large appliance service company where he gained vast experience and factory training on most major brands. In 1990, Glen started his own appliance repair business out of a spare room in his apartment. His 1st service truck was an old 1972 Dodge Tradesman van which was painted & lettered up.
Read More About Glen