Service Request Form
---
Reviews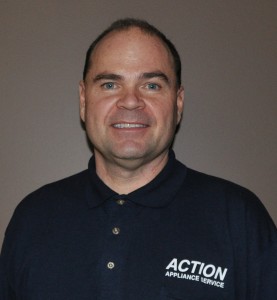 I have used Action Appliance for repairs to our appliances for the past 5 years. Glen has provided outstanding service over these years. Recently, our lower element stopped working on our oven. I called Glen in the morning and he said he would be at our home later in the day. Glen arrive at 4:00 pm with part in hand. This is what I mean by "Outstanding Service." Glen has consistently provided this level of service to us and if the number of times his phone rings during the day is any indication, he is very well regarded by his existing customers. I have and will continue to recommend friends and family to Glen and Action Appliances.
Dan Costello
I was extremely pleased to work with Glen Campbell of Action Appliance. I've always called the original manufacturer for service and repairs and been hesitant to try independent contractors. Glen is extremely knowledgeable, trustworthy, takes the time to explain the work needed, and charges an extremely fair price. I wouldn't hesitate to call him again.
Carrie Warner
We are so pleased with the experience we had with servicing from Glen Campbell of Action Appliance Service. From start to finish he was friendly, honest, professional and extremely thorough in his workmanship. His 30 years experience shows. Fortunately, he has saved us the expense of replacing our washing machine in exchange for a very reasonable servicing cost. We will definitely be calling Action Appliance for our future servicing needs. Thanks again Glen!
Stephanie & Ryan Kelly
It has been brought to my attention that Glen Campbell of Action Appliance has been nominated for the Better Businesses Business Integrity award. I would like to take this time to acknowledge Glen's integrity as a businessman and a friend. Being a small business operator/owner as well, I occasionally require someone to take care of business in order to take holidays or even when a family emergency may arise. What I need in times like this is someone that I can trust to give my customers the fast, efficient service that they deserve. I trust Glen to represent my company in times like this. I do not have to worry about loosing key accounts or customers while I am away and because of this I endorse the nomination given to Glen for your award.
Dan Anderson
I was very impressed with Glen's work. He was very honest and forthcoming when it came to recommendations about replacing the compressor in my fridge. Instead of recommending to go ahead with the expensive repair, which would have been financially beneficial for him, he had my best interests in mind and recommended that I replace the fridge since there would be a minimal difference in cost, but I would end up with something brand new. I was very happy with him and would not hesitate to recommend him to friends. In my mind, there is no one else that you should go with for appliance repair.
Andrew from Kitchener
Glen was great to deal with. He was very professional, nice and helpful with advice. Although the part wasn't available that day, Glen was able to fix the issue without a new part and it's worked great ever since. He also kept the part number in ny file, so if it needs replacing he can order it and come fix it at a good rate.
Greg from Kitchener