Service Request Form
---
Reviews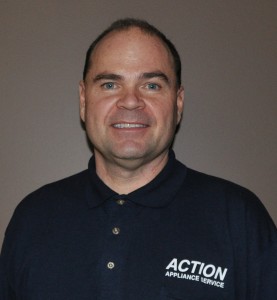 Glen Campbell glen@actionappliance.com Glen is that rare service man – honest, on time, polite, organized and helpful. He explained what and gone wrong with my washing machine, then also explained how to prevent it from happening again. Glen is for sure in my contacts in my phone.
Barbara from Cambridge
I have known Glen Campbell from Action Appliance Service for many years now. We refer our customers to Glen when they require appliance service. The feedback that we receive from these customers is always excellent. Any future service calls that these customers may need, they tend to call us again if they have misplaced his phone number, and ask for him directly.
We are very critical of who we use for service referrals, since this is a direct reflection of our own business. Glen has never let us down and our only regret is that he doesn't work for us!
Allan
Dear Glen,
Just want to thank you for your patience and kindness in treating my concerns over my frig problems. I am glad that at this indecisive time of my life, I don't have to invest in new appliances. I expect we'll have to move in the near future. In the meantime I know someone reliable to call in an emergency – also one I'd gladly recommend to friends.
Pat Schiebel
This letter is in regards to Mr. Glen Campbell, owner of Action Appliance Sales and Service. Since 1996, Mr. Campbell has repaired appliances in various apartment buildings managed by our Company. We have found Mr. Campbell to be very astute in attending to the requests for repairs. He has a good rapport with our Superintendents and works around their schedules. His invoices are very detailed and certainly help us in our decisions regarding the appliances. Mr. Campbell is very honest and will inform us if an appliance can be repaired or if the expense of the repair is not warranted.
We have been very pleased with Action Appliance and will continue to use this company
in the future.
Bonnie Kuiack & Linda Laarakkers
This letter is to commend Mr. Campbell on his outstanding service that he has provided to me and several friends and associates since 1993. During this time, Mr. Campbell has always been prompt, efficient and above all fair and honest. Most people to whom I recommend Action Appliance Service, call after Mr. Campbell has been to their home to thanks me. They are all well pleased with his service.
I will continue to use his services and always recommend him to my friends or associates.
Horst Weiler
Decided to try to have the secondary fridge repaired instead of replacing it. Looked around this site and found Glen, he was prompt in his reply to the initial email as well as setting up a date for repair. I was unable to meet with him, but my wife was impressed with his professionalism and diligence in repairing our fridge. Very pleased with the service and advise offered, thanks Glen!!
Sean from Cambridge